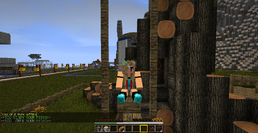 ~MnMFroggiez~
Haii :3 Most of you know me as MnMFroggiez, Froggiez, MnM or Emi.
I started out on this server in 2011 with my IRL best friend damascus352 or as you would all now know her as KitCatGirl she is ma Kiwi!

I am Australian... Quick clarafy... Yes... Yes we ride Kangaroos, I like doing that in my free time and infact spend a lot of time doing so... Just kidding although it would be the funnest thing EVER...
Over the years I have been on 3 different maps and had made 3different towns. First being MnMKit-Dam, the second CreepKingdom, and now a town named after one of my all time favourite movies HakunaMatata (if you do not know what movie that is from I am sorry but... you have had no childhood ;_;)
There is not really much to describe about me besides I am a 14 year old girl who started out on this server with her best friend in 2011 and is now hold the staff rank of Helper
Yes. Fergilicious is infact a word
#PugLyfe#ForLyfe
And if you're not fancy... lets face it who isn't...
Meeting new people
Anime :D
Art & Sport
Logging on to see all my new and old friends ^_^
Fancyness