How to get Teamspeak 3
Edit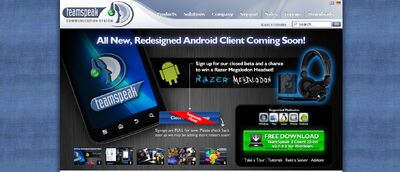 Go to their official website and click on the downloads tab.
Download the client.
If you are a windows user there are two options, 32bit or 64 bit. If you're not sure go with the 32bit client.
What is Teamspeak?
Edit
Teamspeak is a free application like Ventrilo, Raidcall, Mumble ect.
There are no webcams. You can chat with text or chat with your microphone.
How to log in (Diamond Server| Emerald TBA)
Edit
1. Open up your Teamspeak 3 Client.
2. Click Bookmarks -> Manage Bookmarks.
3. Click Add Boomark then click on New Server.
4. Label the Server name to Vox Populi.
5. Label the Address to diamondts.vox.com
6. Label the Nickname; the same name you use in Minecraft.
Password field should be blank. 
Press Apply and Okay. Now that you have set up the teamspeak server, you can connect to the server by click on Bookmarks -> Vox Populi. 
Make sure you read the rules of the server once you have logged in.
How To...
Edit
Set push-to-talk
While you are in teamspeak, go to Settings -> Options -> Capture Tab. Once you are in the Capture Tab menu, look for the Push-To-Talk line and make sure you have bubbled it. To set the hotkey, click on the Rectangular box next to "Push-To-Talk" and press the key you want it to be binded to.
Sound Suppression
Sound suppression is tool that many of our members use to automatically lower down all application sounds to a certain threshold so the voice that is talk will be louder and clearer.
To set this up go to Settings -> Plugins. In the list you will see "Volume Control," click in the box next to "Volume Control"  to enable it (Check Marked). The default settings should be okay to use.
Suppression Rate - The lower the suppression rate, the lower the volume of your applications will be.
Create a Channel
To create a channel please ask a; M.Elite, M.Moderator, or SA. You can also request a personal channel or clan channel.
We do have rules on our teamspeak.
Respect other Players
No profanity with minors around
No obnoxious or annoying sounds
Turn off voice morphs when you are asked
If you have problems file a complaint form by right clicking the offending person and click make a complaint.
Please keep it on Push To Talk, we don't want to hear your background noise.

If you have been put under suspension by a Teamspeak Admin, please appeal on the forums .